I remember when the movie Fireproof came out and paging through The Love Dare. I can't say I did every dare, but it did challenge me to look deeper at my marriage and gave me concrete ways to improve it. Because marriages--no matter how great--can always be improved. Marriage takes work!
And so do kids:)
So when this book came out, I knew I wanted to read it.
I think I liked this book even better than the marriage one. Probably because I am in the middle of raising my children and need all the help I can get--especially from a God-centered angle. This book spoke to me in so many ways, and it challenged me! But the part I loved the most is, like The Love Dare, it didn't stop at issuing a challenge, it gave me the tools to conquer that challenge.
The Love Dare for Parents spans forty days and ends with you writing a legacy letter to your children. That's one I have yet to do, but that's in part because each year on their birthdays I give my children a letter of sorts. And that's another thing I enjoyed about this book. You can take the challenges and tailor them to your children, but it's a great springboard of a place to start.
If you're feeling a bit overwhelmed in your parenting. If you're looking to connect with your kids in new ways. If you're looking for Godly wisdom to help you on this path, I highly recommend this book. Most of the dares are simple and quick, but they all make a lasting impression on your children and strengthen your relationship with them.
I give The Love Dare for Parents 5 out of 5 stars. You can purchase it
here
:)
If you'd like to see a break-down of what my stars equal, check out my page My Ratings System to the right there. And a big t

hanks to NetGalley and the publisher for a free ecopy of this book in exchange for my honest review.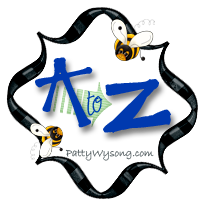 And here's the other blogs on our A to Z blog hop!