It's been a very busy few weeks around here, and I'm restocking my bookshelf. I've got a few books stacked at the top of my TBR pile, so I'll be back to my regularly scheduled Bookshelf Friday soon. For now, I thought I'd take part in the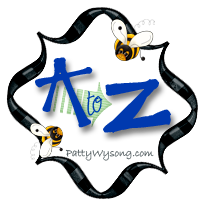 blog hop!
This week's letter is "M" so I'm going with a few of MY favorite things:)
1. FALL! I love this time of year!! Colors bursting. Cooler temps. Slippers, blankets, and sweatpants. And the approaching Holidays.
2. FOOTBALL! Yep. I love it. University of Michigan and Detroit Lions. They're my teams.
3. BROWNIES! Warm, chocolatey, and slightly undercooked. The only thing that compares is a warm chocolate chip cookie and cold glass of milk.
4. COFFEE! Specifically...Salted Caramel Mocha from Starbucks. Best drink ever!
5. SWEATERS! The bigger, chunkier, cozier it is, the better. Hubby says I have a problem with cardigans. I prefer to call it a love affair.
6. READING! I know, I know...I have no books on my shelf today, but it's because I like reading so much that I had to take a break. I can lose myself in a book quite easily, to the point where nothing gets done. As in "kids, let's have an all-day read-a-thon" for the third day in a row...not so good to do when you're homeschooling!
7. WRITING! Yeah. See above. Pretty much the same thing will happen, so I have to stay away from my laptop during school hours, but on the weekends, watch out--my imaginary friends get to come and play! (side note: when my imaginary friends are no-shows, this can quickly turn into one of my least favorite things. No lie.)
8. LONG WALKS! And now I'm sounding like an advertisement for Christian Mingle, but I really do like them. Especially with my headphones and Pandora. I may or may not have been seen around my neighborhood getting my groove on. Just sayin'.
9. MY FAMILY! Yes. They drive me crazy, but I'm pretty sure the feeling is mutual. Still, there's nothing like them. I've got the best kiddos and hubby ever and I simply adore them.
10. FRIDAYS! Because the weekends usher in lots of time with all my favorite things! Well...at least this time of year it does. Fall and football will fade away, Starbucks will put away their specialty salt (which I will protest to no avail) and I'll have to fold up my cardigans...but right now I'm loving it all!
Happy Friday, friends!
What are some of your favorite things?
And check out a few other bloggers that are hopping around this weekend:)